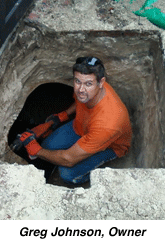 PETROGAN provides Petroleum Tank Closure and associated environmental services for both Commercial and Residential properties.
Petrogan's focus is on removal and In-Place Abandonment of Tanks in accordance with Industry Practices and compliance with Federal, State and Municipal Regulations. Regardless of a tank's size, contents or regulatory status (some are exempt), we are prudent in following processes that assure both safety and a reduction in the probability of an environmental impact. We are, quite simply, very careful in what we do.
Commercial Tanks store a number of contents and dependent on use, may be regulated (typical) or non-regulated (if used for heating purposes). The sizes we remove range from 110 gallons to 20,000 gallons and are constructed of various materials. We provided all necessary field testing, report preparation and form completion for regulated sites.
Residential Tanks are often referred to as: Fuel Oil, Heating Oil, Kerosene or simply Oil Tanks. The underground tanks typically range in size from 110 gallons to 500 gallons. These tanks are "non-regulated", but do pose an environmental impact risk as they are constructed of thin single wall steel and do rust/corrode over time resulting in potential release of contents. The above ground tanks are typically 55 gallons to 300 gallons and, like the underground ones, are steel and do corrode.
PETROGAN's Principal (Gregory Carl Johnson) is a Licensed Petroleum Contractor with 25+ years of experience.